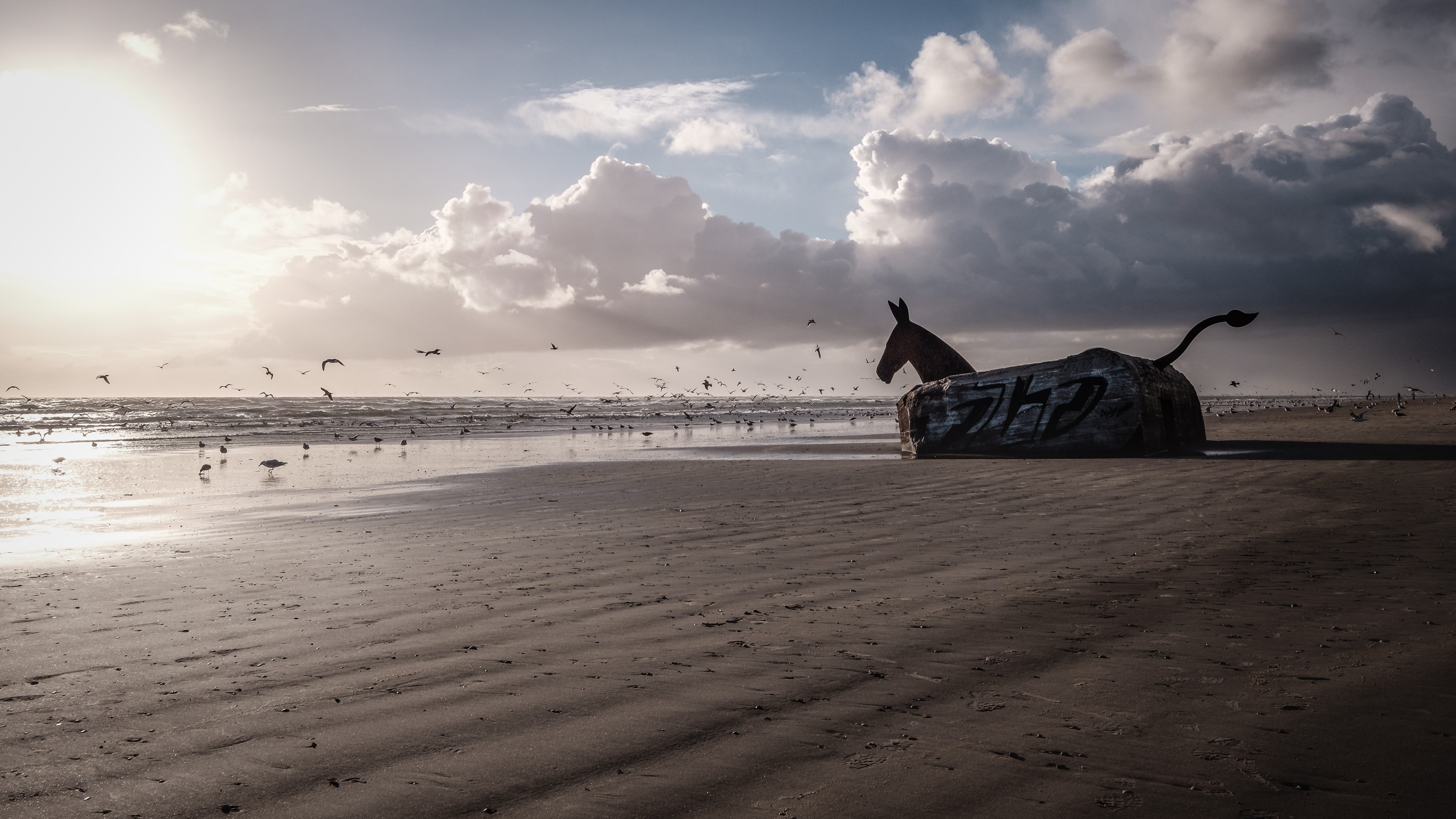 Denmark 2020 - Hennestrand
A whole trip dedicated to photography and
connecting to an old friend
As so many others I desperately wanted that vacation and photo trip. I waited over a year to get to that point and then, just 3 days before the vacation began, I heard rumors that Denmark thinks about closing their borders for German tourists due to the Covid 19 pandemic. Just one day later it became reality. Denmark will be closing its borders from November 2nd. Our vacation should began on exactly that day. I was destroyed immediately. I felt anger, helpless and sad. After an hour of grief I came to the conclusion that there was still one chance and that I won't give up to fight for that trip.
I called my friend and travel companion and asked if it would be manageable for him to drive one day earlier then previously planned. He agreed immediately and to make a long story short... we made it over the border 3 hours before its official closure. We felt so great as we passed the border and left all our doubts behind.
But now we had another issue to be taken care of. We would arrive one day earlier than we've booked. That means that our house would not be ready and that we probably had to sleep in the car. Here we really challenged our luck. I called the agency if they could offer me any possibility that would not include to sleep in our car. And in fact they could. It turned out that the family that had booked that hose before us has departed one day earlier, which meant that we could move into the house one night earlier. In the end all that trouble granted us one more night and one more day in beautiful and peaceful Denmark.

Despite being hobby photographers we took the first morning off. It wasn't until late in the afternoon as we drove to our first location. The Lyngvig Fyr lighthouse is always on my list when I'm in Denmark. In addition I could show all my beloved motives to my friend who was there for the first time. This time I tried to avoid shooting the normal stuff. I wandered around, tried different composition and to make something out of the rather bad conditions, as it was still harsh daylight and clouds. After that we drove further to Rinköbing where I always like to walk around the tiny harbor.
There are two places where I absolutely enjoy driving. The first one is in the Dolomites. I like the agile driving because of all the curves and differences in heights. The second place is along the Danish fjords. It's totally different to the Dolomites as everything is straight but I simply love the view to both sides of the car. When driving to the north, like Lyngvig Fyr or Ringköbing you always drive along the fjords.
On our way back we made another stop at the lighthouse. But as the weather wasn't in our favor this day we only tried some long exposure stuff and extreme angles.

The next day we went to the museum as the weather forecast was bad and it already rained as we started driving south to Blavand. I wanted to show my friend the most amazing museum I've ever been to. The Tirpitz museum is really impressive and we spent almost 3 hours in it. After that we had some fish in Blavand and went back to hour house.
In the evening I decided to give it a try and walked to the beach. My friend stayed at home as he wasn't feeling well and the conditions outside weren't promising.
And that evening is one that I will remember forever in my live and I learned a lesson that every photographer might learn.

Right above the horizon and over the sea the clouds passed away just so that enough light came through. And what a light it was. So colorful and it lasted until the sun went down and even a bit longer during the blue hour. I was tempted to press the shutter without any pause and without having a motive, as the colors alone would have been worth shooting. But I was searching for subjects that I could add to my composition and found some of them. For the next 20-30 minutes I was just happy. With this session in the bag I was looking forward to the rest of the vacation even more, as I already had experienced that one epic sunset that I was looking for.
So what I learned this evening was that no matter what the conditions are, it can be worth it and it can turn into something amazing and beautiful. And to make it even more full of impact, there wasn't any other sunset on this trip. If I would have missed that one chance of good light...

Beside the photography side of the trip, the other thing that really amazed me, was how good it felt to reconnect to my friend. He is one of my oldest and best friends - his name is Denis - But as time goes by you loose sight for friendships and how important they can be. Someone moves away and another one becomes a father. Both spend much time with work and different hobbies. But from time to time there is a chance to reconnect, spend time together and share the same passion (e.g. photography). It was just great to have someone familiar with me on that trip. I enjoyed the talking, sharing insights to my personal life and to get to know him and his plans and challenges. It reminded me to save time in everyday life and spend some quality time with longtime friends.

The next day we discovered some of the local area. Henne Strand is just beautiful. All the houses are more or less hidden in the dunes. The beach is only minutes away. We went to the beach and the sun came out. On this afternoon it wasn't about shooting. We just walking the beach, pushing against the wind and the sun was shining down on us. At the end of hour walk we stopped by a river called Henne Mölle A. This river directly flows into the north sea. We were looking for interesting sand patterns and motives to go back to in the evening. Hours later and right before the golden hour we went back to that place. But the conditions were giving us nothing really interesting. In these situations you can see what the most important ingredient to successful photography is. The best subjects and composition are worth nearly nothing when there is no light.
So we decided to go for some long exposures and I thought that in the absence of light it is best too look for simple and minimalist beach scenes. We saw these beach logs on the other side of the river. We climbed up to the highest dune and shot the logs from above. The result was a tranquil scene where you had 3 layers and the log. The beach, the sea and the sky.

On the next day nothing really spectacular happened. We had a good time walking the beach and getting warm in front of our stack. But I had big plans for the next day. My companion had to work on that day and stay at home. Therefore I planned to do something on my own. I've been to Denmark for about 8 years in a row now. But I never had the opportunity to explore the north of the Westjütland region. Especially the famous Rubjerg Knude Lighthouse. It is almost a 4 hour drive to the lighthouse which means you basically need the whole day just to visit this location and get back home.
Anyway, as a photographer I had to photograph this subject. Early that day and before I started the journey to the north I visited an author that was living and working near the region I was on holiday. Tim Uhlemann recently published his second book. It is about emigrating and living in a new country. In this particular case it instantly interested me as the author comes from the same region where I live (Ruhrgebiet) and moved to the place where I was doing my holidays year after year.
The book is very well written. Funny and honest. And so is the author. Please check him out.

I arrived at the lighthouse at about 1 p.m. I thought I had to seize the chance to get photos although the conditions weren't that good. My plan was to check out the location for an evening shoot and I wanted to use the time between to visit another location.
The place is just beautiful. A big dune, the cliffs and the lighthouse. So many compositions were available. After all I liked the simple ones the most.
I was very happy to get the lighthouse with different natural surroundings. Within an hour we had clouds directly behind the lighthouse and we had a pale blue sky.
There is one little angle where you get a nice reflection of the sunlight and seems like the lighthouse is still working and sending electrical light.

The time between the two shootings was a complete waste. I visited the biggest moving dune in Denmark and it took me one hour for each way. In the end the dune isn't that impressive and photogenic. That's my humble opinion. But I wasn't too miserable as I was looking forward to the evening shoot at the lighthouse.

I arrived late in the afternoon and the sunset was only minutes away. So I was in a little bit of a hurry which is never good for photography. I walked as fast as I can to get to the location and I already took some shots on my way up to the lighthouse. As I arrived the sunet was about to happen. Suddenly I was able to slow myself down. That's what I like so much about landscape photography. At one point in almost every shooting session and after you've found your composition and spot from where to shoot you have time to calm down. You take the shots while the scene is changing and the time inbetweeen the shots is the most satisfying time you can get. Theres is so much that comes together. You feel complete because you are stading in the most spectacular landscape, you are watching something beautiful and you've managed to capture that moment. Not only on camera but also in your mind.

I realise that myself - that happy state of mind - not only as I am writing this, but also immediately after the event. Because although that whole day was exhausting and although I had to drive for another 4 hours in the dark, I turned up the volume in my car and sang along all my favourite songs until I got home.