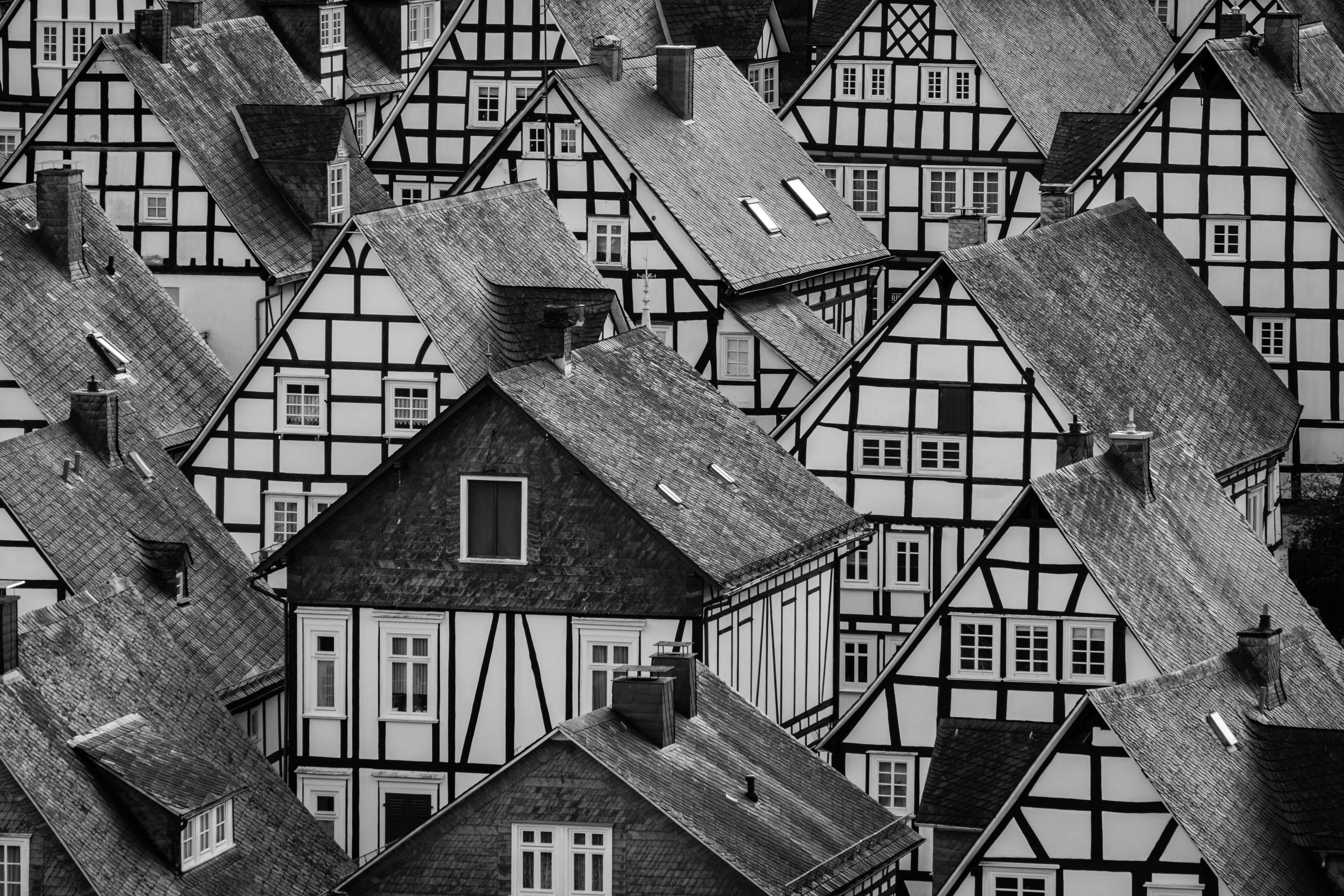 Freudenberg & Moselschleife
Germanys famous oldtown of half-timbered houses and the essential riverloop
You might say that social distancing is something that photographers (especially landscape photographers) do admire. How many times have we complained about crowded places and have blamed Instagram for it? These days some of the famous and most frequently visited spots are almost empty. In some countries the restrictions with regards to the Corona virus are stricter than here in Germany. As we are still allowed to go out, I made up the plan to visit some of those places that were on my bucket list. Both location, Freundenberg and Moselschleife, are a 1 1/2 to 2 hours drive away.

On a sunny early afternoon I went to Freundenberg. The city and old town of Freudenberg is already prepared for the tourists that are coming to visit and photograph this pittoresque village. There are parking places dedicated to the visitors and right next to them is the way up to the viewpoint. Once at the top you have a clear and straight view on the old town with its half-timbered houses. I spend almost 3 hours at this point and enjoyed the calmness and loneliness of the place. Beside me there was only one more couple at the viewpoint. I shot some pictures during golden hour, at sundown, blue hour and at night. It is rare to be able to shoot throughout such a long period, but this day it worked out pretty well. My favorite shots were those at golden hour and especially those at night. The city lights up in warm orange and yellow lights and some chimneys blow smoke up in the air and into my composition. I recommend visiting that area when it's cold outside and I probably will revisit Freudenberg in winter again, when the rooftops are covered in snow and more chimneys are blowing up this atmospheric smoke.


To photograph the Moselschleife required a lot of willpower. The best time to do so is at sunrise. That means that I had to get up at 2.30 a.m. at night, get into my car at 3, take a 2 hour drive, arrive and do a 30 minute hike to be there just in time to get a bit of the blue hour and finally the sunrise. In my opinion that's a huge risk if you take into consideration that you have to drive back too and that there is no certainty to get good conditions. To my luck I had quite good conditions. The sky was a little boring that morning, as there were no clouds at all, but at least there wasn't any cloud blocking the sun either. In my opinion there are only 2-3 positions from where to photograph the Moselschleife, at least in the area where I was. It starts at the very top of the vineyard. That's the spot to choose when you want to incorporate at least a little foreground into your shot. The downside is that this foreground blocks a little part of the river. That was spot that I chose for my composition. Beside me there was one other photographer. He chose the spot approximately 10 meters below. From there you get the whole river loop into the frame, but without any foreground interest in the composition. It's up to you to choose your favorite spot.


The sun rises behind a vineyard to the left side of the composition. You can get some early pictures with a high aperture to get those classic sunbeams. But it takes a while until the sun is high enough that it actually illuminates some of the areas on river level. So I decided to take several exposures and do a time-blend in Photoshop afterwards. I took one exposure from the early rising sun and painted that into a much later exposure where the valley and the river are hit by the sunlight.

On that day I once again felt that freedom and fortune to be at a calm and beautiful place. I enjoyed the planning, the late night drive, the hiking, the sunrise, the actual taking of the photographs and the post production in Lightroom and Photoshop. It might even be a picture that I once will be printing. I can totally recommend shooting this location. Perhaps you get even luckier than I was, as there is still room for improvement for an even better composition. There are times in the morning where the valley is covered in fog, or high clouds catch some of the light of the rising sun.